Just as when there are serious concerns over the wellbeing or welfare of a student, any member of the School (student or staff member) may identify concerns about a student potentially being drawn into violent extremism or terrorism based on information received or behaviour observed.
It is important that such concerns can be shared in a safe and supportive fashion to enable concerns to be investigated and an appropriate intervention to be developed, if required.
It is equally important that assumptions are not made on the basis of information received and that concerns/referrals are considered thoroughly and fairly. The LSWM will seek to approach such concerns from the perspective of safeguarding the individual about whom concerns have been expressed.
Only where there is clear and compelling evidence of a requirement to do so will information be shared with other agencies. See Section 7 below for further detail.
A flowchart for the process of reporting concerns is included in Appendix A and is detailed below.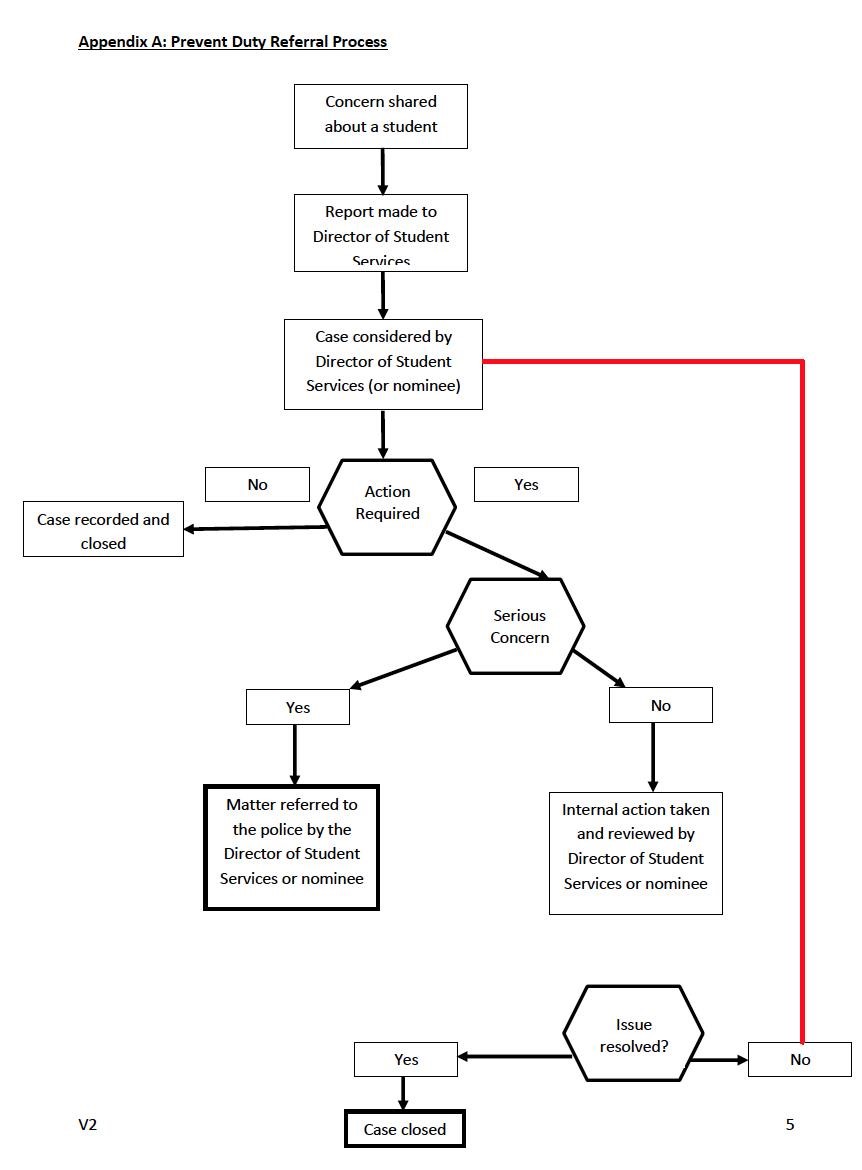 Where a student or staff member has concerns that a student is expressing violent extremist views or is at risk of being drawn into violent extremism or terrorism, these concerns should be passed to the Programme Manager.
The Director or nominee will look into the matter, seeking to gather together the substantive information and any evidence which would allow a full consideration of the case.
A decision will be made as to the seriousness of the case. Three potential outcomes are likely at this stage:
No further action is required. In this case a confidential record of the case will be kept by the Director.

There is a substance to the case but at this stage only internal action is required. The exact nature of the intervention required would be determined by discussion between relevant staff members. Actions and a review date will be agreed. It is anticipated that in the majority of cases the intervention would be supportive and safeguarding in nature.

A referral to the police is required because there are serious and immediate issues of safety to the student or others, and/or there is evidence to suggest a criminal act may be committed or has been committed. This decision would be taken only in the most serious of circumstances and only by Director or nominee. In such cases the Academic Dean will be informed of the details and the police referral.